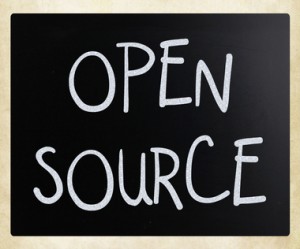 Open source software either eliminates or reduces copyright restrictions on freely available source code and does not restrict the number of times or the manner in which the code is used. The majority of open source software is free to download and use and many applications allow users to distribute the software under the same license agreement. Most open source software is authorized for use under the GNU General Public License, which was developed by Richard Stallman in 1989. Stallman is featured in the 2002 book Free as in Freedom, which documents his ongoing fight for a free and open Internet. The most dynamic developers, programs and websites are implementing and encouraging an open source market.
The Benefits of Open Source
Open source software saves consumers money. According to research conducted by the Standish Group, the choice to use open source over propriety software has saved consumers some $60 billion per year since 2008.
Implementing a free license from Copyleft is one way to save money when using source code or other software. It ensures that all subsequent versions of distributed content maintain the same adaptability, thus encouraging the growth of the open source movement.
The Most Popular Open Source Software Programs
Popular open source software programs, such as PHP, MySQL, Linux, Apache, WordPress and Octave have opened up a new world to consumers, programmers and designers alike. In lieu of HTML, web designers use PHP to create dynamic web pages and server-side scripting at no cost to them. Today, over 75% of all Internet websites call PHP their coding language of choice.
WordPress
WordPress, the most widely used content management system on the Internet, employs the MySQL open source relational database management system. WordPress allows users to create blogs and intricate websites using templates and source code, and is one of many open source software programs that use MySQL for database management. In addition to flexible licensing and a variety of paid and free services, MySQL offers a plethora of free support forums and open access to the application manual.
Linux
Linux is an open source operating system that powers the majority of the world's super computers. Under the GNU General Public License, corporate and individual users of the Linux system can modify and distribute its code for use within mobile, television, video game and tablet applications. In fact, the majority of Android cell phones utilize Linux.
Many of the original developers who created open source software have become open source activists, and supporters of a global movement to make open source the norm, not the exception. The Apache Software Foundation was founded in 1999 by a global network of web programmers who wished to create free open source software and operating systems. In the past 13 years, the Foundation has authored the Apache HTTP Server, six different database systems and numerous Java frameworks and implementations.
Speedy Net and Speedy Composer
Speedy Net and Speedy Composer are two cutting edge examples of open source innovation. Speedy Net is a social networking site for the vegan and vegetarian community, while Speedy Composer allows users to create and download music files for use in online videos. Both sites use open source software and allow their users to do the same. With this kind of specificity and content value, it's clear that open source has made the move from poor quality freeware to high quality software. And the best part – the more people use it, the more companies will follow suit, and the more we, the consumer, will benefit from the ensuing competition.
---
Written by: Andrea Gressman